About Marcin Antiques
Many of my fondest childhood memories are of the holidays. Growing up in Morris Plains, NJ in the 1960s and 1970s, my parents made every holiday memorable. My mother – everyone called her "Ma" – worked non-stop before each holiday to create an amazing ambiance for the season.
Each holiday had its own sounds, smells and events. For Hallowe'en, I can still feel the crisp, fall air as I stepped outside in my costume, hearing the echoes of my neighborhood pals up and down the street exclaiming "Trick or Treat!", and that distinctly Hallowe'en aroma that is a combination of the fallen leaves and the "hot pumpkin" smell of a real Jack o' Lantern with a wax candle burning inside. Ma would decorate the house for Hallowe'en, not just for the holiday, but to celebrate my oldest sister, Bobbie's, October birthday. To this day, I still have the original pulp Jack o' Lanterns and the vintage Beistle diecuts from those wonderful days.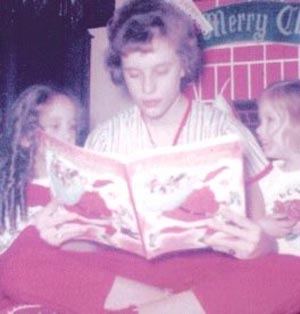 That's me, on the right, as my oldest sister Bobbie read to Sally and me on Christmas morning circa 1960.
At Christmas, Ma would pull out the boxes of ornaments, tinsel and garland – I still love that musty smell of the ornament box from its storage spot in the attic. Again, I still decorate with those very same ornaments from my childhood.
I am a proud member of The Golden Glow of Christmas Past, a wonderful organization for those who love all things Christmas ... as I do! Click here to learn more about "The Glow."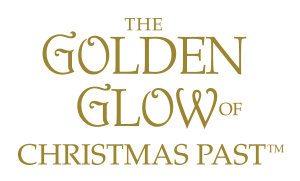 All our holidays were magnificent! For Valentine's Day, our father would arrive home from work with a Valentine greeting and candy for Ma, and one each for his three daughters. Many years later, a great-aunt of my husband, Mark – knowing of my love for antique Valentines – gave me her collection of glorious, stand-up, dimensional Valentines from the early 1900s. They are on display year-round!
For Easter, Ma and Dad would hide baskets throughout the house – and continued doing so even when we were in our 40s! Of course, I still have those vintage baskets with our names on them – as well as a large collection of antique Easter memorabilia.