Vintage & Antique Halloween Memorabilia for Sale
I have been an avid collector of vintage and antique Halloween memorabilia for many years. I enjoy sharing select pieces from my collection with others, as well as selling wonderful examples on behalf of other collectors.
I split my Halloween listings into the following categories:
My Personal Halloween History
How I adore this autumn holiday! I have beautiful childhood memories of falling leaves, crisp New Jersey October nights, and the joy of Trick or Treating from house-to-house hoping for a full-sized candy bar. I remember so well the sound of my own breath behind my plastic mask, the intoxicating scent of burning leaves mixed with the sweet smell of candy corn, and so much more.
My mother would hang our Beistle decorations, get out the Dennison table cloth and place our pulp Jack o' Lanterns in the window. In the picture below, you see the three pulp JOLs on the window sill, a Beistle ghost table decoration on the wall, and a Beistle JOL garland above the window -- I still have them ALL to this day! That's little me on the left with my sister Sally, circa 1960.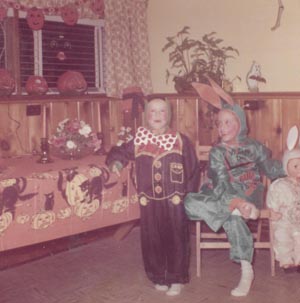 In this picture you will see honeycomb pumpkins, a German JOL diecut, and a jointed JOL man in the background -- all of which I still have!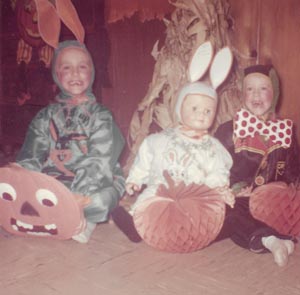 Today, I celebrate Halloween by decorating my home top-to-bottom with authentic vintage and antique decorations of all kinds -- including the ones you see above. We're known around the neighborhood each year as "The Halloween House," so artist Jenny Barnish created this amazing illustration of our home. Thank you, Jenny!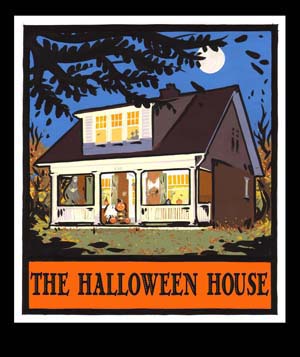 Be sure to check back frequently, as I am adding new items regularly. I also post timely updates on my Facebook page as well!